Tea & Talk Tuesdays: Ted Talk: What Frogs in Hot Water Can Teach Us About Thinking Again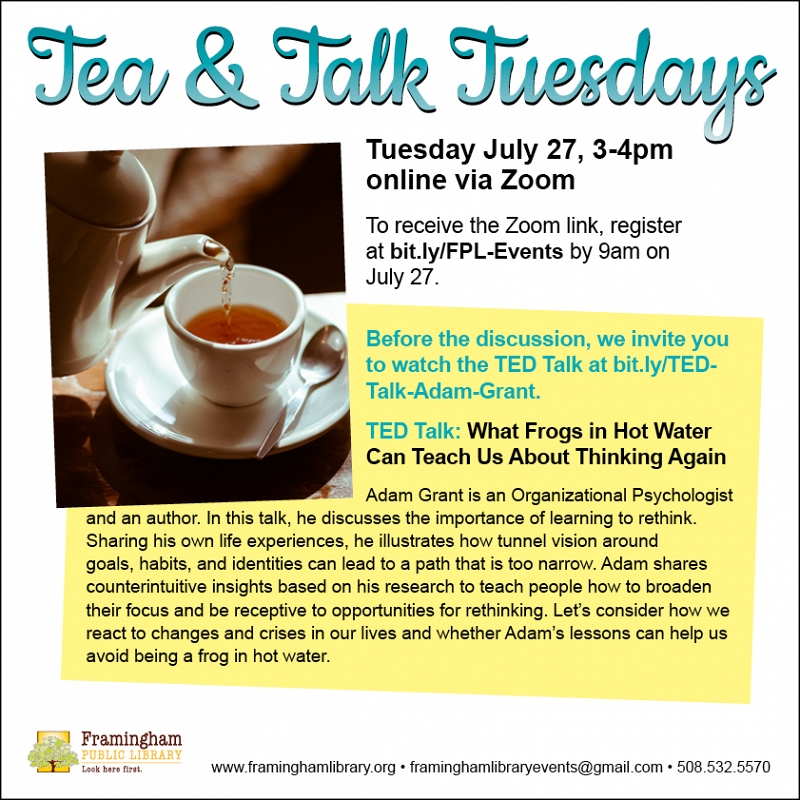 Adam Grant is an organizational psychologist and an author. In this Ted Talk, he discusses the importance of learning to rethink. By sharing his own life experiences, he illustrates how tunnel vision around goals, habits and identities can lead to a path that is too narrow. Adam shares counterintuitive insights based on his research to teach people how to broaden their focus and be receptive to opportunities for rethinking. Let's consider how we react to changes and crises in our lives and whether the lessons Adam teaches us can help us avoid being a frog in hot water.
Before you join us for the discussion, view the Ted Talk at https://www.ted.com/talks/adam_grant_what_frogs_in_hot_water_can_teach_us_about_thinking_again. Please register at http://bit.ly/FPL-Events by 9am on July 27 to receive an invitation and link to the Zoom session.