Homework Center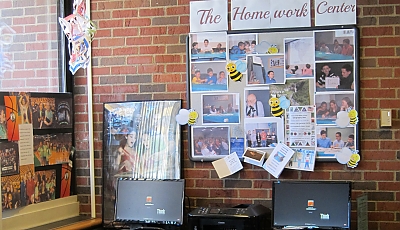 The Homework Center offers free tutoring and homework help program for all Framingham students K-12. We have 26 tutors (+ an additional 4 new tutors) who are proficient in all subjects taught in the Framingham schools (including the newly offered mandarin classes at FHS)!
News
The following article appeared on January 11, 2017 in the Framingham Source:

"Library's Homework Center Offering Free Coding Club on Thursdays
January 11, 2017, Framingham Source
FRAMINGHAM – Last Thursday, about a half dozen elementary students began to learn how to code thanks to middle and high school students with the Framingham Public Library's Homework Center.
The Homework Center is hosting the Coding Club for students in grades 2-5 on Thursdays from 4 to 5 p.m. at the main Framingham Library.
One of the founders of the Club is Framingham High junior Varun Tekur, who learned how to code in high school.
Tekur said coding "has helped me learn to create interesting projects and to improve my problem solving skills," and it hopes to provide those skills to the members of the new Coding Club.
The Club is free and those interested in participating need to pre-register by emailing Homework Center Director Judy Gatlin at jgatlin@minlib.net.
"We thought that a coding club would be a great opportunity for elementary school students because the world around us is dominated by programmed technology," said Tekur. "Although many students don't realize this, its very important to know how much can be created using code. Also, the basic principles of coding can be taught to very young students, allowing these students to build upon their knowledge in middle and high school with more advanced programming."
Tekur said "even if students don't decide to pursue programming in high school, it is still an awesome experience for them to understand the inner workings of the technology around them."
Tekur, who has been a member of the youth advisory board of the Framingham Homework Center said "coding also teacher people a different way of thinking which can help enhance their problem-solving skills."
"Working with the students was a very fun and rewarding experience, and it was great to see the students work through problems and their excitement when they solved a problem," said Tekur of the first session of the Coding Club.
Gatlin said the Thursday Coding Club can handle about a dozen students, and if the Coding Club proves to be more popular she will look at adding additional sessions beyond the Thursday at 4 p.m. one."

http://framinghamsource.com/index.php/2017/01/11/librarys-homework-center-offering-free-coding-club-thursdays/

The Homework Center was originally funded by a grant from the Institute of Museum and Library Services for the first 18 months of the Program. Today the Homework Center is in its 6th year and is funded by FPL.
The Homework Center presents Future Leaders!
Thursdays, March 9 to March 30, 4-5:00pm – Main Library, Homework Center
What does it mean to be a Leader? What are Leadership skills? Join us for the "Future Leaders Program" to find out!
Through research and discussion on pertinent topics, fourth and fifth grade students will share their thoughts, listen to their peers and develop appreciation for varied viewpoints. They will also hone their ability to express themselves respectfully in a group setting.
Facilitated by Ms. Meena Bharath of Red Crocus Learning Center. For questions and to sign up, contact jgatlin@minlib.net.

The Homework Center presents:
Sunday May 7, 1-3:00pm – The Library's 4th Annual Fashion Show and Afternoon Tea Main Library, Costin Room Fashions, jewelry and accessories from "Under the Same Moon," a foundation promoting the work of Guatemalan artisans will be featured and available for purchase. Proceeds will benefit The Framingham Public Library Foundation and Under the Same Moon. Tickets go on sale for $25 on April 7 at both Libraries.
Thursday May 25, 7-9:00pm – Annual Town-wide Spelling Bee! Main Library, Costin Room Middle school students – sign up in your school office to represent your school! Scripts National Spelling Bee Word Study Packets will be available at middle school offices beginning April 10.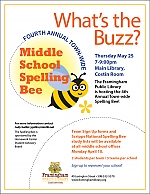 Questions? jgatlin@minlib.net

Join the Homework Center Coding Club!
Students grades 2-5 are invited to come for a fun hands-on opportunity to learn computer programming. The Coding Club will meet Thursdays 4-5:00pm beginning January 5. Computer themed snacks will be served. To sign up contact jgatlin@minlib.net.
Hours
The Homework Center provides free tutoring and homework help to students K-12. We are open Monday-Thursday from 2:30-5:30pm during the school year. To schedule an appointment or for more information contact Judy Gatlin, jgatlin@minlib.net.
Volunteer
Tutor at the Homework Center
Adult Volunteer tutors provide free tutoring for Framingham students K-12. Tutoring takes place at the Homework Center Program which is located at the Main Library. The Homework Center's Library's Outreach Initiative also sends teams of tutors to each of the middle and high schools. For more information about the Homework Center, contact Judy Gatlin at jgatlin@minlib.net. To fill out application forms, please click here.
Serve on the Student Advisory Board (Middle and High School students)
A hands on opportunity for an active role in running a library program that also serves the academic community of Framingham. Meet on a monthly basis with students representing each of the middle and high schools. Plan and run fun town-wide academic events (spelling and geography bees, fundraising fashion shows, essay contests, etc.) Being a member of the advisory board is a leadership/community service experience, important to note on college and employment applications. Students can also serve as tutors with younger students and peers in the Homework Center Tutoring Program. For more information, contact Judy Gatlin at jgatlin@minlib.net.