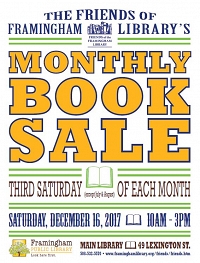 9:30-10:00am: Friends Members Only
10:00am-3:00pm: Open to the public

The monthly sale falls early enough this year for you to complete some quality holiday shopping with offerings to meet all your interests.

The winner of the $100 VISA Gift Card drawing in October was Roche Brothers, who very graciously donated it back to the Friends. Thank you to everyone who joined the Friends between May 1 and September 30. We appreciate your support of the Friends and the Library. Thank you also to our new corporate member, The Optical View, and our renewing member, Shillman House Residence.