Events Calendar
/ December 05, 2017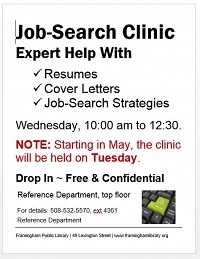 Get expert help with resumes, cover letters and job-search strategies.
Note: Effective May 1, resume help will move to Tuesdays.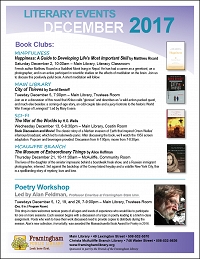 Join us in a discussion of this novel that Kirkus calls "glorious" and describes as "a wild action-packed quest, and much else besides: a coming-of-age story, an odd-couple tale and a juicy footnote to the historic World War II siege of Leningrad." Led by Mary Evans.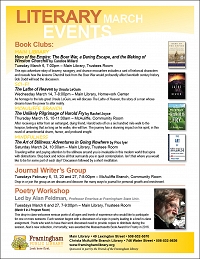 Led by Alan Feldman, Professor Emeritus at Framingham State University

This drop-in class welcomes serious poets of all ages and levels of experience who would like to participate for one or more sessions. Each session begins with a discussion of a topic in poetry leading to a brief in-class assignment. Poets who wish to have their work discussed should provide copies to distribute. Alan's new collection, Immortality, was awarded the Massachusetts Book Award for Poetry in 2016.