2nd Tuesday Adult Book Club: Homegoing by Yaa Gyasi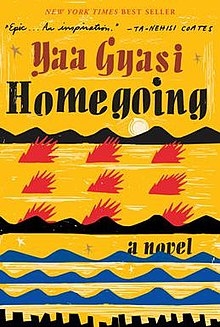 Two half-sisters, Effia and Esi, are born into different villages in eighteenth-century Ghana. Effia is married off to an Englishman and lives in comfort in the palatial rooms of Cape Coast Castle. Unbeknownst to Effia, her sister, Esi, is imprisoned beneath her in the castle's dungeons, sold with thousands of others into the Gold Coast's booming slave trade, and shipped off to America, where her children and grandchildren will be raised in slavery. One thread of Homegoing follows Effia's descendants through centuries of warfare in Ghana, as the Fante and Asante nations wrestle with the slave trade and British colonization. The other thread follows Esi and her children into America. Homegoing makes history visceral, and captures, with singular and stunning immediacy, how the memory of captivity came to be inscribed in the soul of a nation.
No registration needed to attend in person.
To attend online and receive the Zoom link, register at http://bit.ly/FPL-Events. Request a print copy through the Minuteman Catalog, ebook or audiobook on Overdrive/Libby, or request one of the copies held at McAuliffe.
Led by Brigitte Griffin. September's title is Dear Martin, by Nic Stone.