Brown Bag Learning Series: Health & Wellness Fair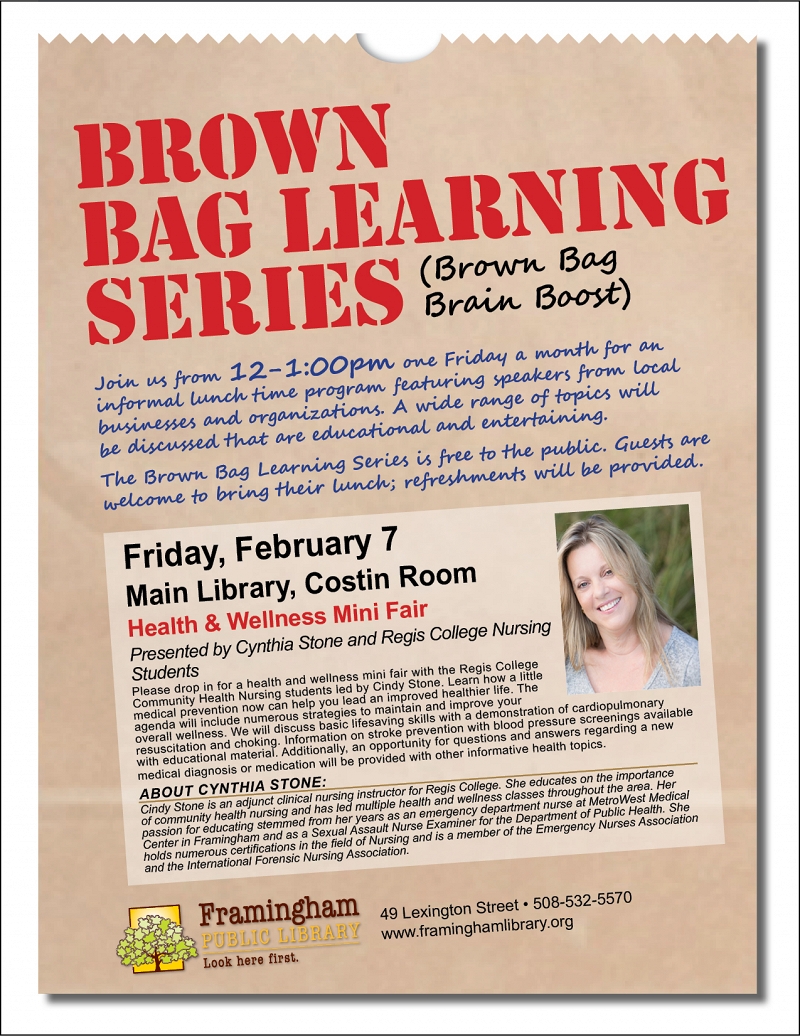 Brown Bag Learning Series: Health & Wellness Mini Fair
Presented by Cynthia Stone and Regis College Nursing Students
Just added: Drop by for a quick massage and learn breathing exercises to alleviate stress! Get your blood pressure checked!
Please drop in for a health and wellness mini fair with the Regis College Community Health Nursing students led by Cindy Stone. Learn how a little medical prevention now can help you lead an improved healthier life. The agenda will include numerous strategies to maintain and improve your overall wellness. We will discuss basic lifesaving skills with a demonstration of cardiopulmonary resuscitation and choking. Information on stroke prevention with blood pressure screenings available with educational material. Additionally, an opportunity for questions and answers regarding a new medical diagnosis or medication will be provided with other informative health topics.
About Cynthia Stone:
Cindy Stone is an adjunct clinical nursing instructor for Regis College. She educates on the importance of community health nursing and has led multiple health and wellness classes throughout the area. Her passion for educating stemmed from her years as an emergency department nurse at MetroWest Medical Center in Framingham and as a Sexual Assault Nurse Examiner for the Department of Public Health. She holds numerous certifications in the field of Nursing and is a member of the Emergency Nurses Association and the International Forensic Nursing Association.