Brown Bag Learning Series: What is Expressive Arts Therapy?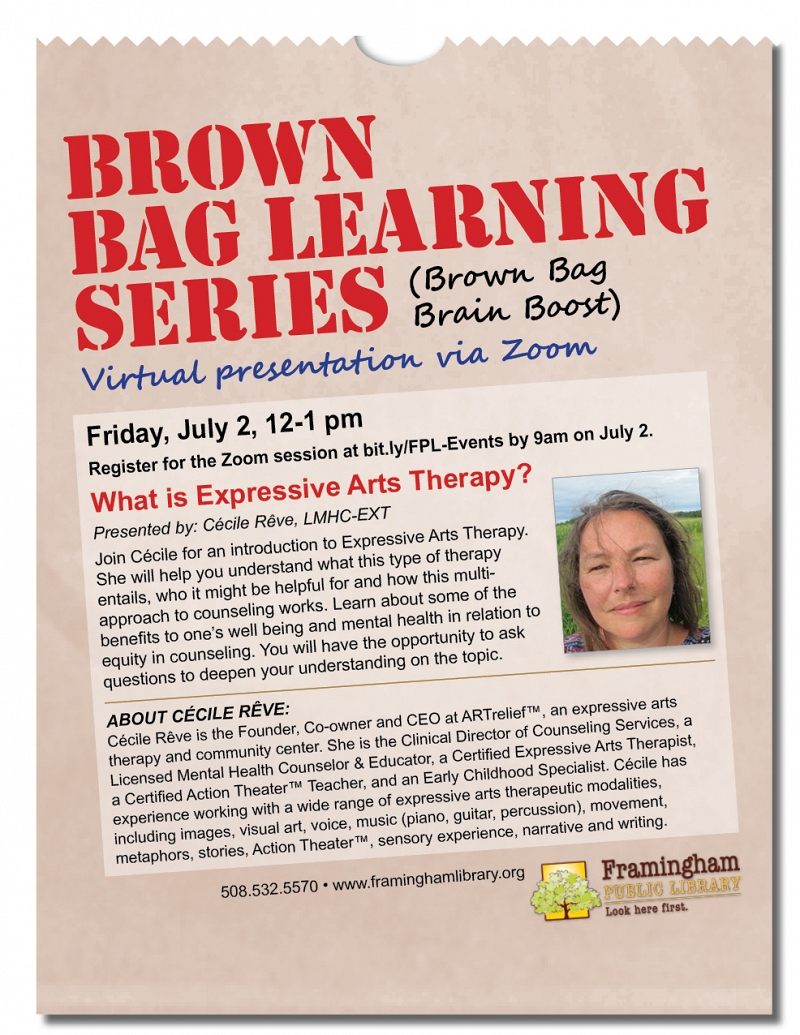 Brown Bag Learning Series: What is Expressive Arts Therapy?
Presented by: Cécile Rêve, LMHC-EXT
Join Cécile for an introduction to Expressive Arts Therapy. She will help you understand what this type of therapy entails, who it might be helpful for and how this multi-approach to counseling works. Learn about some of the benefits to one's well-being and mental health in relation to equity in counseling. You will have the opportunity to ask questions to deepen your understanding on the topic.
About Cécile Rêve:
Cécile Rêve is the Founder, Co-owner and CEO at ARTrelief™, an expressive arts therapy and community center. She is the Clinical Director of Counseling Services, a Licensed Mental Health Counselor & Educator, a Certified Expressive Arts Therapist, a Certified Action Theater™ Teacher, and an Early Childhood Specialist. Cécile has experience working with a wide range of expressive arts therapeutic modalities, including images, visual art, voice, music (piano, guitar, percussion), movement, metaphors, stories, Action Theater™, sensory experience, narrative and writing.
To register and receive a Zoom link, please go to http://bit.ly/FPL-Events by 9am on July 2.