Mini Horror Book Festival @ The Ashland Library!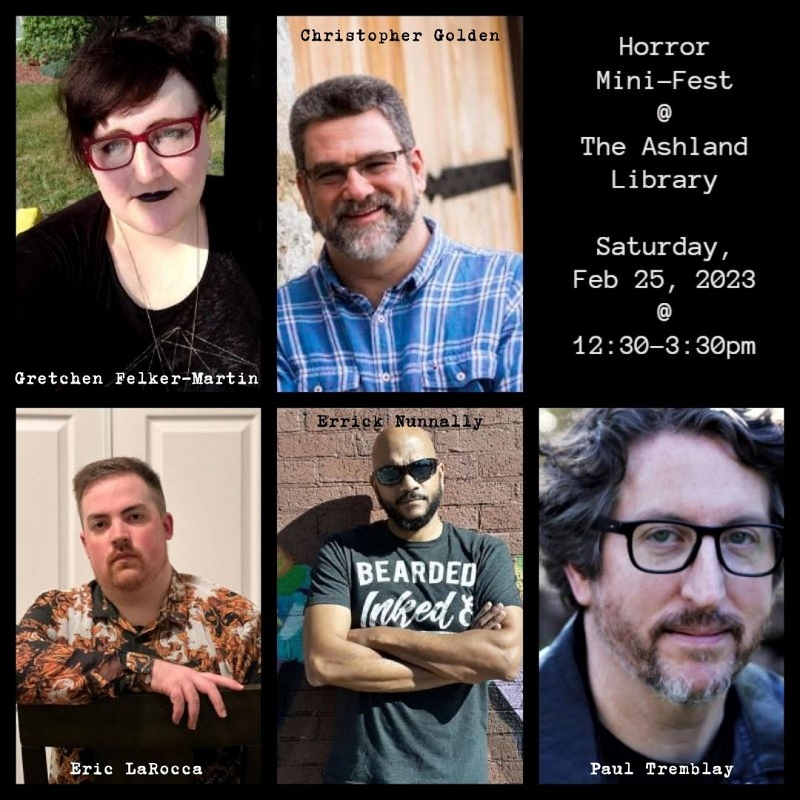 We're so excited to welcome horror authors Gretchen Felker-Martin, Christopher Golden, Eric LaRocca, Errick Nunnally, and Paul Tremblay to Ashland for our very first Mini-Fest! If you've read their books, you already know they are spooky, thought provoking, and scare-your-pants off fun. The day will include a panel discussion (which will be hybrid so you can come in person or watch online!), small group conversations, and a book sale/signing. So, grab your horror lovin' friends (because it's no fun to be so scared on your own
, and come on down to the Ashland library!
Books for the book sale will be provided by Aesop's Fable. You can PREORDER books by any of our authors and Aesop's will bring your books to the Fest - easy peasy and no worries that they'll sell out! - https://aesopsfable.com/pages/horror-festival
If you would like to view the panel discussion from home, please register for the zoom link here - https://us06web.zoom.us/webinar/register/WN_KzEPCA6LR6GG6B5cwCm1oQ
If you are coming in person, feel free to walk in but we're also requesting registration so we know how many chairs to have out (and you'll receive reminders). Please REGISTER HERE if joining us IN-PERSON - https://www.eventbrite.com/e/mini-horror-book-festival-the-ashland-library-registration-471750226627
Ashland Public Library is partnering with the Framingham Public Library for this event!

Schedule of events:
12:30-1:30pm - Panel with all 5 authors: The Bright Side: The Healing Comfort of Reading and Writing Dark Fiction
1:30-2:00pm - Dedicated book sale/signing
2:00-2:30 - Small discussion group with Christopher, and Errick
2:30-3pm - Small discussion group with Eric, Gretchen, and Paul
3-3:30pm - Dedicated book sale/signing

About our authors:
Gretchen Felker-Martin is a professional cenobite. A critic and novelist, she writes about sexual revulsion, body horror, and how violence forms and fits into our lives. The Anomaly Journal of Arts and Literature hailed her as the "filthcore queen". In addition to her fiction and essays available on Patreon, she has written criticism for outlets like Polygon, FanByte, The Outline, and Nylon. Raised in backwoods New Hampshire, she now lives in Massachusetts with her cat. Her traditional publishing debut, MANHUNT, was published by Tor Nightfire in March 2022.
Christopher Golden is the New York Times bestselling, Bram Stoker Award-winning author of such novels as Road of Bones, Ararat, Snowblind, and Red Hands. With Mike Mignola, he is the co-creator of the Outerverse comic book universe, including such series as Baltimore, Joe Golem: Occult Detective, and Lady Baltimore. As an editor, he has worked on the short story anthologies Seize the Night, Dark Cities, and The New Dead, among others, and he has also written and co-written comic books, video games, screenplays, and a network television pilot. In 2015 he founded the popular Merrimack Valley Halloween Book Festival. He was born and raised in Massachusetts, where he still lives with his family. His work has been nominated for the British Fantasy Award, the Eisner Award, and multiple Shirley Jackson Awards. For the Bram Stoker Awards, Golden has been nominated ten times in eight different categories, and won twice. His original novels have been published in more than fifteen languages in countries around the world.
Eric LaRocca (he/they) is the Bram Stoker Award®-nominated and Splatterpunk Award-winning author of several works of horror and dark fiction, including the viral sensation, Things Have Gotten Worse Since We Last Spoke. A lover of luxury fashion and an admirer of European musical theatre, Eric can often be found roaming the streets of his home city, Boston, MA, for inspiration.
Errick Nunnally was born and raised in Boston, Massachusetts, he served one tour in the Marine Corps before deciding art school would be a safer—and more natural—pursuit. He is permanently distracted by art, comics, science fiction, history, and horror. Trained as a graphic designer, he has earned a black belt in Krav Maga/Muay Thai kickboxing after dark. Errick's work includes: the novels, BLOOD FOR THE SUN and LIGHTNING WEARS A RED CAPE; LOST IN TRANSITION, a comic strip collection; and first prize in one hamburger contest. The following are some short stories and their respective magazines or anthologies: PENNY INCOMPATIBLE (Lamplight, v.6, #3 and the Podcast NIGHTLIGHT); JACK JOHNSON AND THE HEAVYWEIGHT TITLE OF THE GALAXY (The Final Summons); WELCOME TO THE D.I.V. (Wicked Witches); A FEW EXTRA POUNDS (Transcendent); and A HUNDRED PEARLS (PROTECTORS 2: stories to benefit PROTECT.ORG). Eventually, Errick came to his senses and moved to Rhode Island with his two lovely children and one beautiful wife.
Paul Tremblay has won the Bram Stoker, British Fantasy, and Massachusetts Book awards and is the author of Survivor Song, The Cabin at the End of the World, Disappearance at Devil's Rock, A Head Full of Ghosts, the crime novels The Little Sleep and No Sleep Till Wonderland, and the short story collection, Growing Things and Other Stories. His essays and short fiction have appeared in the Los Angeles Times, New York Times, Entertainment Weekly online, and numerous year's-best anthologies. He has a master's degree in mathematics and lives outside Boston with his family.

This program is sponsored by the Friends of the Ashland Public Library.