McAuliffe Library Movie Battle Royale: Valerian vs. War for the Planet of the Apes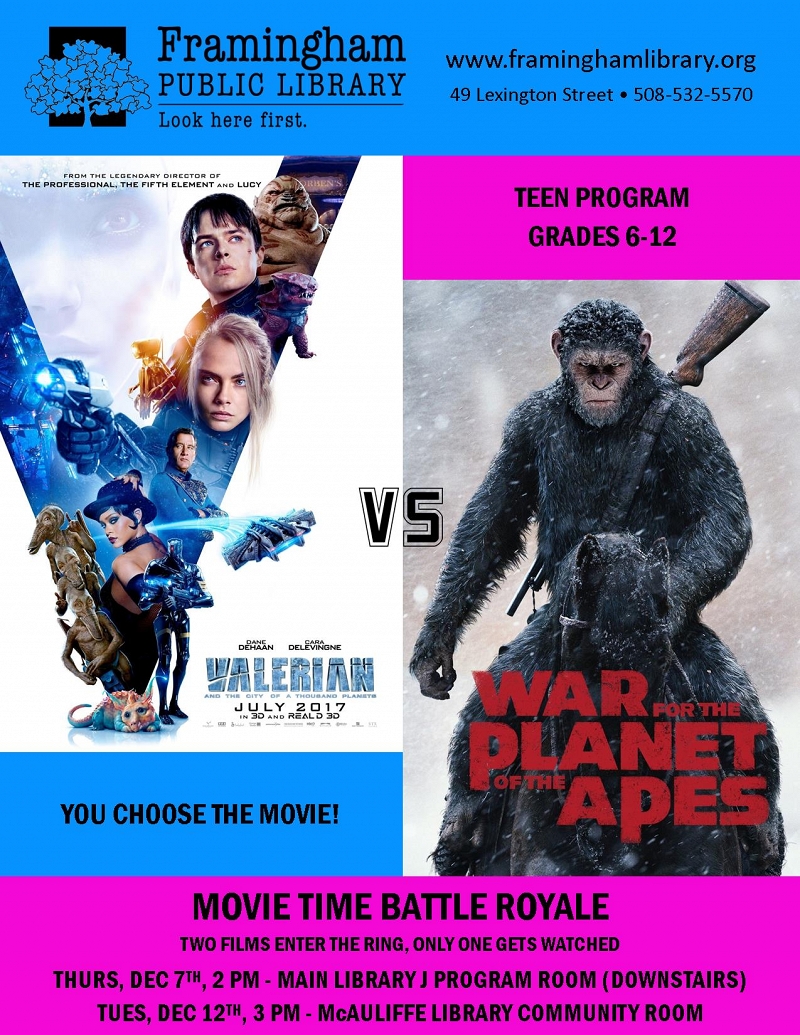 Two movies enter, only one gets watched! Everyone who shows up gets to vote, and snacks will be had regardless of what gets chosen. We'll be doing this on Thursday, December 7th in the J Program Room at the Main Library (downstairs) at 2 PM, and on Tuesday, December 12th in the Community Room at the McAuliffe Library, so if the movie you want to watch doesn't get chosen the first time, you have another chance a few days later!
The choices are:
Valerian and the City of a Thousand Planets
A dark force threatens Alpha, a vast metropolis and home to species from a thousand planets. Special operatives Valerian and Laureline must race to identify the marauding menace and safeguard not just Alpha, but the future of the universe. From the director of the Taken series, The Fifth Element, and Lucy.
War for the Planet of the Apes
Caesar and his apes are forced into a deadly conflict with an army of humans led by a ruthless Colonel. After the apes suffer unimaginable losses, Caesar wrestles with his darker instincts and begins his own mythic quest to avenge his kind. As the journey finally brings them face to face, Caesar and the Colonel are pitted against each other in an epic battle that will determine the fate of both their species and the future of the planet.