Thrills and Chills with Hitchcock: The 39 Steps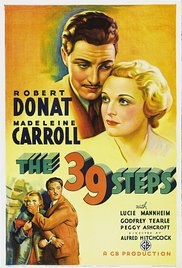 Chill with ice cream and thrill with Hitchcock this summer at the Library. Some classics and some lesser known thrillers will be shown in the Costin Room of the Main Library.

A man in London tries to help a secret agent. When the agent is killed, the man stands accused. He then goes on the run to save himself and stop a spy ring. Stars Robert Donat and Madeleine Carroll. Join us and see if you can spot Hitchcock's cameo appearance.
The 39 Steps (1935) 86 min.