Yoga and Meditation with Nissa/Yoga y meditación con Nissa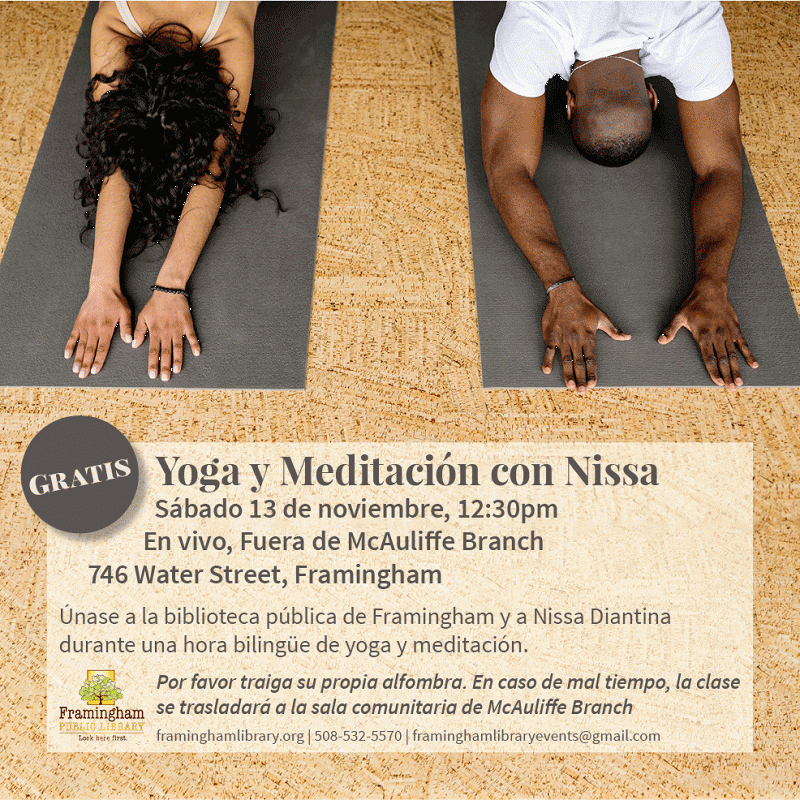 Join the Framingham Public Library and Nissa Diantina for an hour of bilingual yoga and meditation. Attendees will learn to warm up and stretch their body in a fun and functional way. Nissa will lead you through breathing techniques and how to apply them in practice and everyday life. You will learn basic Asanas (postures) of yoga, basic vinyasa flow and meditation.
About Nissa Diantina: Nissa comes from a background in theatre and teaches languages. She loves challenging her movement with vinyasa flow, hot vinyasa, animal movement and tribal dance. As a 200-hour certified yoga teacher, she hopes to offer fun, functional, full body-and-mind engagement to all yoginis and yogis who find interest in exploring these concepts.
Únase a la biblioteca pública de Framingham y a Nissa Diantina durante una hora bilingüe de yoga y meditación. Los asistentes aprenderán a calentar y estirar el cuerpo de una forma divertida y funcional. Nissa lo guiará a través de las técnicas de respiración y cómo aplicarlas en la práctica y en la vida cotidiana. Aprenderá asanas (posturas) básicas de yoga, flujo básico de vinyasa y meditación.
Nissa Diantina tiene experiencia en teatro y enseña idiomas. Le encanta desafiar su movimiento con 'vinyasa flow', 'hot vinyasa', movimiento animal y danza tribal. Como profesora de yoga certificada de 200 horas, espera ofrecer un compromiso divertido, funcional y completo de cuerpo y mente a todos los yoguis y yoguinis que encuentren interés en explorar estos conceptos.