Teens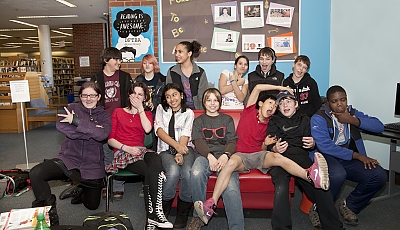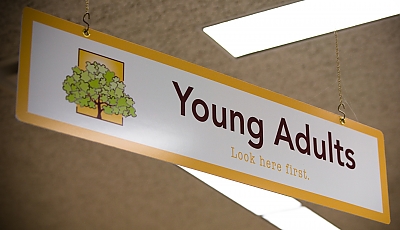 Upcoming Events
Please see our Events Calendar to view upcoming programs for Teens.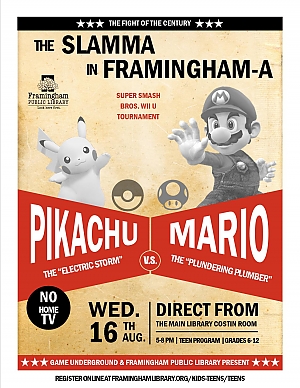 SUMMER READING SUPER SMASH BROS. WII U TOURNAMENT REGISTRATION IS NOW OPEN!
Its time to rumble!!! Game Underground and Framingham Public Library will be hosting a Wii U Super Smash Bros. tournament in August. Pick your character, and work your way up the ranks to be the supreme champion. Who knows, there may even be a prize for the contestant who comes out on top.

For those of you who just want to come and watch, or play a more casual match, we'll have several TVs and game systems set up for you to have fun too.

Please register by filling out the form at the bottom of this linked page to guarantee a spot in the competition. There will be maximum of 64 players entered, so get your registration in soon!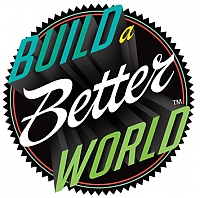 SUMMER READING 2017
To sign up, come to either the Main Library or the McAuliffe Branch, enter your name in our notebook, and grab a few reading slips. Just for signing up, you'll get to take home one of our Build a Better World drawstring backpacks! When you read for 10 hours, fill out a 10-hour reading slip, and bring it to the Circulation Desk to get a prize. Each slip you submit will be entered into our end of summer raffle. There will be six raffle prizes to choose from! Additionally, be on the lookout for our summer events. We'll be holding a Star Wars Day, an after hours mini golf program, a Super Smash Bros. tournament, a recycled art program, and more! There will be something happening all summer long here at FPL!


Teen Tech Time is a new program that will run during the spring and fall of 2017. The Framingham Public Library will be teaming up with Empow Studios to provide a series of STEAM programs focusing on programming, tech design, animation, robotics and more! The schedule for the spring is as follows:

Tuesday, March 28th, 6-8 PM - Minecraft Design - ALL SPOTS FILLED
Tuesday, April 11th, 6-8 PM - Electronic Music Production - ALL SPOTS FILLED
Tuesday, May 23rd, 6-8 PM - Scratch Programming - ALL SPOTS FILLED

Space is limited in all of these programs, so make sure to click on the event you'd like to register for and fill out the form at the bottom of the page. Please put the grade of the person who will be attending in the message. Also, if you sign up for one, and later realize that you are unable to make it, please email jgarrigan@minlib.net to let our teen librarian know so he can get someone else a spot.
Video Games are Here!
We have recently added several games for the PS4, Wii U and XBox One to the Young Adult collection, and we've got several Nintendo Switch games pre-ordered! Games may be borrowed for free for one week. We would like to expand our gaming collection, so please consider donating games you don't play any more to the library.
Forgotten Our Stuff?
We have manga, anime, fiction, paperbacks, an online list of new books, databases, Internet access, wireless, audiobooks, videos, and all kinds of nonfiction and reference materials. If you're looking for something fun to do or read, or if you just need to study, we're the place - we've got it all!
Looking for a Good Book?
Check out our Teen Reading page with lists of great books created by librarians and fellow teens.
New Arrivals in Teens
See what's new, or sign up for a weekly update on the new material we order!
eBooks for Teens
Visit the Digital Collection for Teens here.