Another Mini Horror Book Festival at The Ashland Library!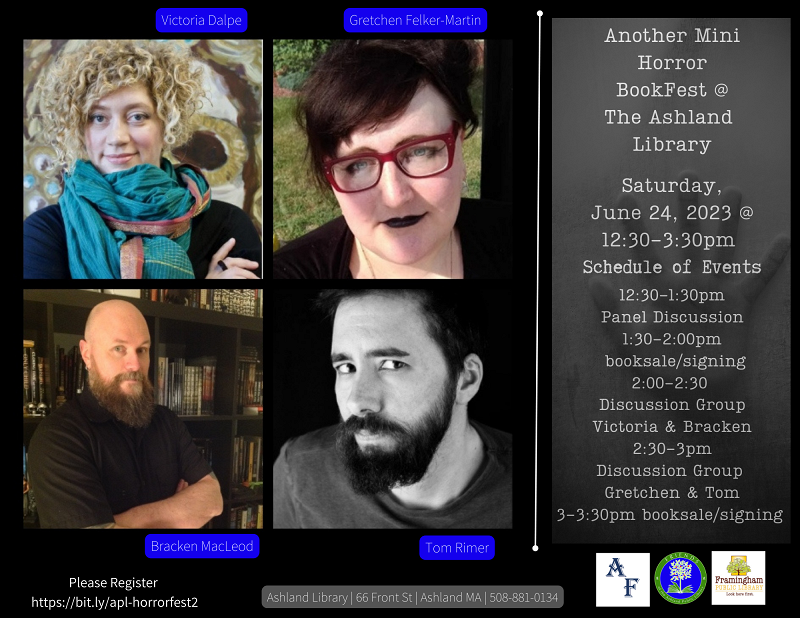 We had so much fun at our last Mini Horror Fest that we had to do another one! This time, we welcome horror authors Victoria Dalpe, Gretchen Felker-Martin, Bracken MacLeod, and Tom Rimer to Ashland for our 2nd Mini Horror Fest! We're in for anther day of spooky, thought provoking, and scare-your-pants off fun. The day will include a panel discussion (which will be recorded so, if you can't make it in person, you can watch later!), small group conversations, and a book sale/signing. So, grab your horror lovin' friends (because it's no fun to be so scared on your own, and come on down to the Ashland library!
Books for the book sale will be provided by Aesop's Fable. You can PREORDER books by any of our authors and Aesop's will bring your books to the Fest - easy peasy and no worries that they'll sell out! - https://aesopsfable.com/pages/another-mini-horror-festival
If you are coming in person, feel free to walk in but we're also requesting registration so we know how many chairs to have out (and you'll receive reminders). Please REGISTER HERE if joining us IN-PERSON - https://www.eventbrite.com/e/612509100207
FPL is pleased to be partnering with the Ashland Public Library for this event!
Schedule of events:
12:30-1:30pm - Panel with Victoria, Gretchen, Bracken, and Tom
1:30-2:00pm - Dedicated book sale/signing
2:00-2:30 - Small discussion group with Victoria and Bracken
2:30-3pm - Small discussion group with Gretchen and Tom
3-3:30pm - Dedicated book sale/signing

About our authors
Victoria Dalpe was raised in the wilds of New Hampshire and attended Rhode Island College for Fine Arts and Film Studies. She is an artist and writer. Her short fiction has appeared in thirty anthologies and her first novel, Parasite Life, came out in January 2018 by ChiZIne Publications, it will be rereleased by Nightscape Press in 2021. She is a member of the Horror Writers Association and the New England Horror Writers. She is also the Gallery Chair of the Pawtucket Arts Collaborative. Previous to that, she worked at MoMA and various other NYC museums. She currently resides in Providence, RI with her husband, writer, and filmmaker Philip Gelatt, and their young son.
Gretchen Felker-Martin is a professional cenobite. A critic and novelist, she writes about sexual revulsion, body horror, and how violence forms and fits into our lives. The Anomaly Journal of Arts and Literature hailed her as the "filthcore queen". In addition to her fiction and essays available on Patreon, she has written criticism for outlets like Polygon, FanByte, The Outline, and Nylon. Raised in backwoods New Hampshire, she now lives in Massachusetts with her cat. Her traditional publishing debut, MANHUNT, was published by Tor Nightfire in March 2022.
Bracken MacLeod has worked as a martial arts teacher, a university philosophy instructor, for a children's non-profit, and as a trial attorney. His short fiction has appeared in various magazines and anthologies including Shotgun Honey, Sex and Murder Magazine, Femme Fatale: Erotic Tales of Dangerous Women, Ominous Realities, Eulogies III, Wicked Tales, Beat to a Pulp, Protectors 2: Heroes, ThugLit, LampLight, Splatterpunk, and Shock Totem Magazine. He is the author of MOUNTAIN HOME, a novella titled WHITE KNIGHT, and his new novel, STRANDED, is coming in October 2016 from TOR Books, followed by 13 VIEWS OF THE SUICIDE WOODS from ChiZine Publications in March 2017. He lives in New England and is currently at work on his next novel.
Tom Rimer is a New England-based author writing nightmares set primarily in New England, because the scariest stories—and the most terrifying monsters—are usually found right in our back yards.
This program is sponsored by the Friends of the Ashland Public Library