Author Talk: Across the Tracks:Remembering Greenwood, Black Wall Street, and the Tulsa Race Massacre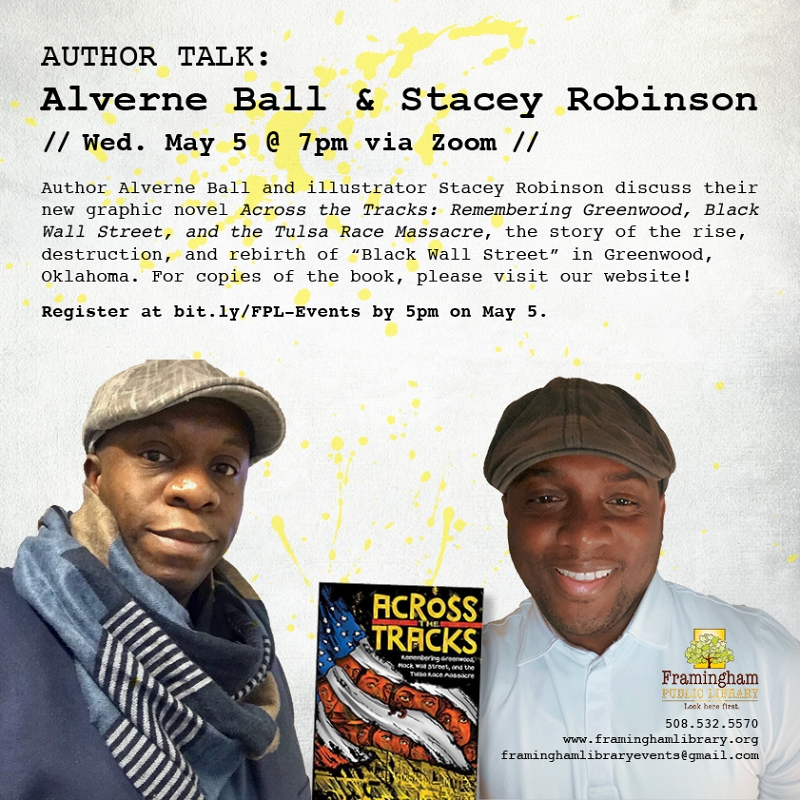 Author Alverne Ball and illustrator Stacey Robinson discuss their new graphic novel, the story of the rise, destruction, and rebirth of "Black Wall Street" in Greenwood, Oklahoma.
About the Author and Illustrator
Graphic artist and illustrator Stacey Robinson is an Assistant Professor of Graphic Design at the University of Illinois at Urbana-Champaign. As one half of the collaborative team "Black Kirby" with artist John Jennings, Stacey creates graphic novels, gallery exhibitions, lectures, and workshops that use world-building strategies to imagine new worlds inspired by Design, Hip-Hop, the Arts and Sciences, and diasporic African belief systems.

Alverne Ball received his B.A. and M.F.A. in Creative Writing from Columbia College, Chicago. His stories have been everywhere from a hit South African TV series, "Uzalo," to comics, graphic novels, and storylines for companies as Di Bona Ventura Productions, Paramount Pictures, McGraw-Hill, Lions Forge comics, and more.

Check out or place a hold on a copy of the book from the library HERE.
We are also excited to announce a partnership with Barnes & Noble for our author talks! If you would like to purchase a signed copy of the book discussed by our author, please call the Framingham Barnes & Noble store between May 3-8 and receive 20% off your purchase of Across the Tracks and free shipping to your doorstep.
Register at bit.ly/FPL-Events by 5pm on May 5.