Dia da Independência do Brasil/ Brazilian Independence Day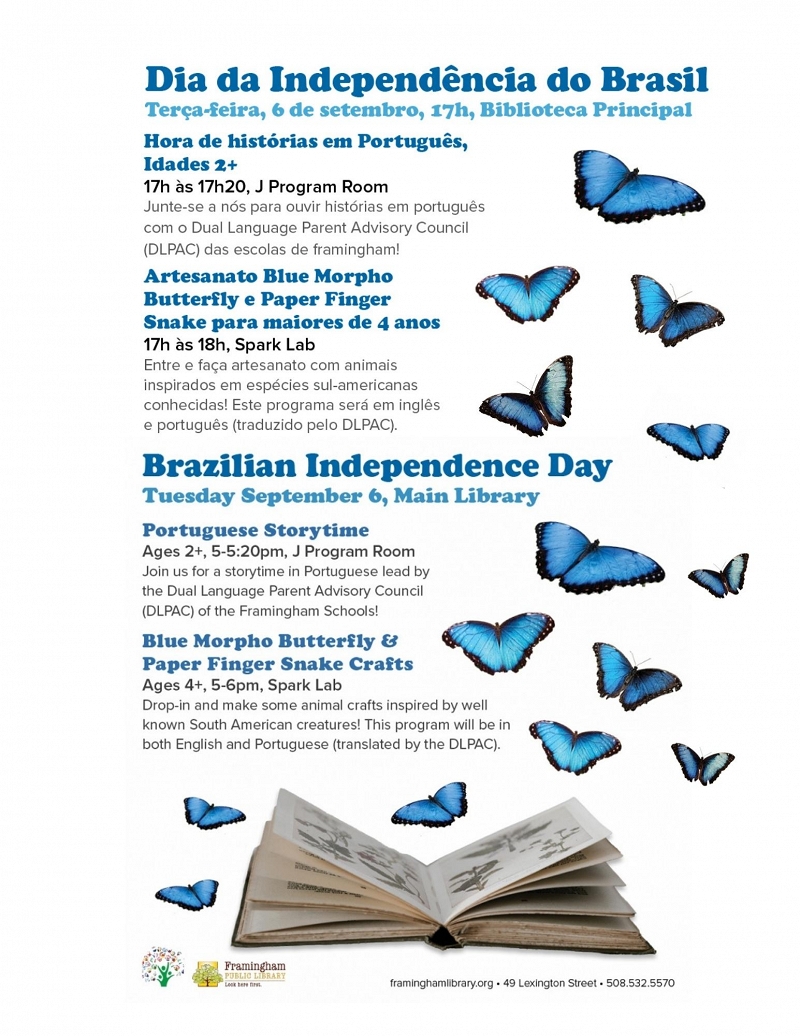 Hora de histórias em Português Idades 2+
17h às 17h20, J Program Room
Junte-se a nós para ouvir histórias em português com o Dual Language Parent Advisory Council (DLPAC) das escolas de framingham!

Artesanato Bllue Morpho Butterfly e Paper Finger Snake para maiores de 4 anos
17h às 18h, Spark Lab
Entre e faça artesanato com animais inspirados em espécies sul-anericanas conhecidas! Este program será em inglês e português (traduzido pelo DLPAC)
Portuguese Storytime Ages 2+
Tuesday September 6, 5-5:20pm, Main Library, J Program Room
Join us for a storytime in Portuguese lead by the Dual language Parent Advisory Council (DLPAC) of the Framingham Schools!
Blue Morpho Butterfly and Paper Finger Snake Crafts (Ages 4+)
Tuesday September 6, 5-6pm, Main Library, Spark Lab
Drop-in and make some animal crafts inspired by well known South American creatures! This program will be in both English and Portuguese (translated by the DLPAC).