Financial Literacy Series: Debt Management and Credit Counseling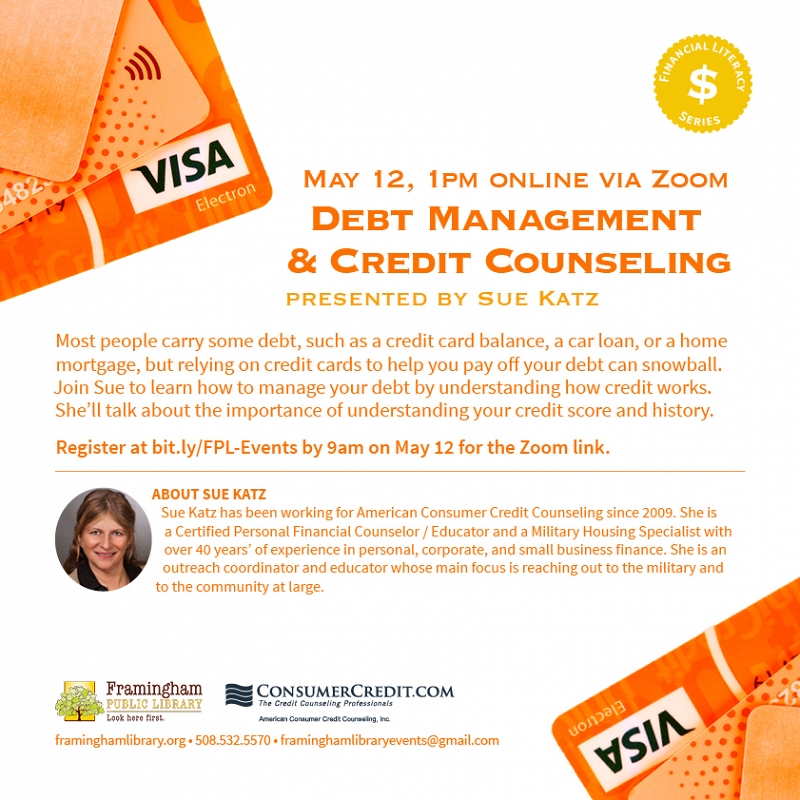 Presented by Sue Katz, American Consumer Credit Counseling
Most people carry some debt, such as a credit card balance, a car loan, or a home mortgage, but relying on credit cards to help you pay off your debt can snowball. Join Sue to learn how to manage your debt by understanding how credit works. She'll also talk about the importance of understanding your credit score and history.
About Sue Katz:
Sue Katz has been working for American Consumer Credit Counseling since 2009. She is a Certified Personal Financial Counselor / Educator and a Military Housing Specialist with over 40 years' of experience in personal, corporate, and small business finance. She is an outreach coordinator and educator whose main focus is reaching out to the military and to the community at large.
The Financial Literacy Series is brought to you by the Framingham Public Library in collaboration with Sue Katz of American Consumer Credit Counseling, and Bradley Baskir of Morgan Stanley. We hope that these programs help Framingham residents develop the financial literacy to make informed decisions.
Register at bit.ly/FPL-Events by 9am on May 12 for the Zoom link.