Lifelong Learning Lecture Series: Bob Dylan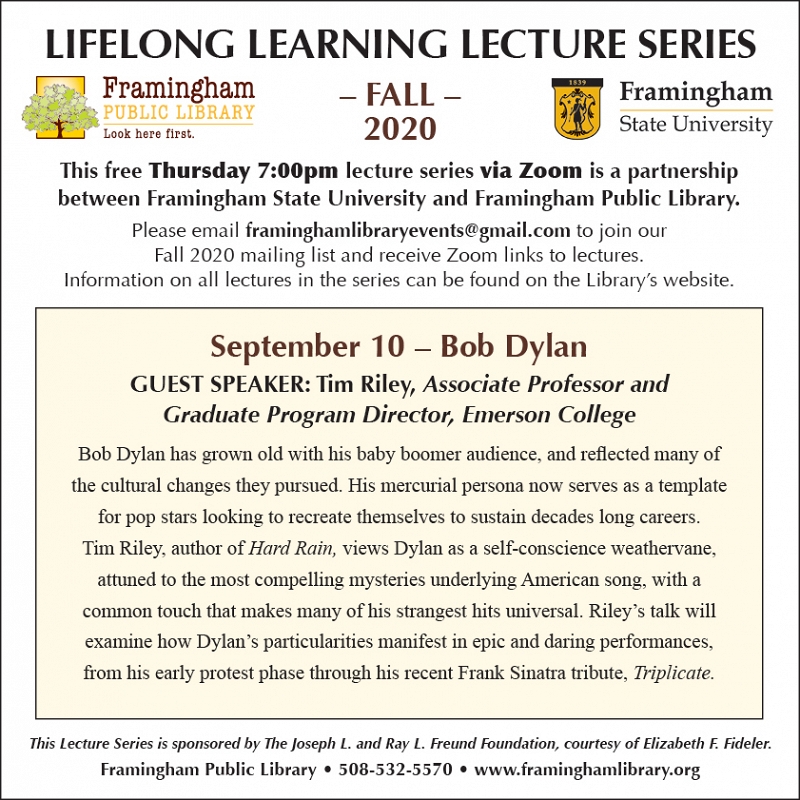 GUEST SPEAKER: Tim Riley, Associate Professor and Graduate Program Director, Emerson College
Bob Dylan has grown old with his baby boomer audience, and reflected many of the cultural changes they pursued. His mercurial persona now serves as a template for pop stars looking to recreate themselves to sustain decades long careers. Tim Riley, author of Hard Rain, views Dylan as a self-conscience weathervane, attuned to the most compelling mysteries underlying American song, with a common touch that makes many of his strangest hits universal. Riley's talk will examine how Dylan's particularities manifest in epic and daring performances, from his early protest phase through his recent Frank Sinatra tribute, Triplicate.
This free Thursday 7:00pm lecture series via Zoom is a partnership between Framingham State University and Framingham Public Library.
Please email framinghamlibraryevents@gmail.com to join our Fall 2020 mailing list and receive Zoom links to these lectures.
Information on all lectures in the series can be found here.