Morning Book Group: Caveat Emptor: The Secret Life of an American Art Forger by Ken Perenyi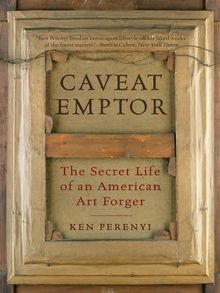 Ten years ago, an FBI investigation in conjunction with the U.S. Attorney's Office in the Southern District of New York was about to expose a scandal in the art world that would have been front-page news in New York and London. After a trail of fake paintings of astonishing quality led federal agents to art dealers, renowned experts, and the major auction houses, the investigation inexplicably ended, despite an abundance of evidence collected. The case was closed and the FBI file was marked "exempt from public disclosure." Now that the statute of limitations on these crimes has expired and the case appears hermetically sealed shut by the FBI, this book, Caveat Emptor, is Ken Perenyi's confession. It is the story, in detail, of how he pulled it all off.
Led by Jillian Holmberg. The title for our August 19, 11am discussion, is The Vanishing Half by Brit Bennett
Register for the Zoom Link at: http://bit.ly/FPL-Events. Borrow the eBook or audiobook on Overdrive/Libby, or request a copy through the Minuteman Catalog, or request one of the copies held at McAuliffe.