Sci-Fi Book Group: Luna: New Moon by Ian McDonald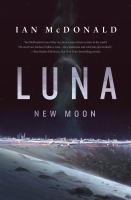 Those families known as the Five Dragons were among the first humans to leave Earth to exploit the resources of the moon; while they have carved out their own specializations, their competition reflects the rough frontier spirit that still epitomizes lunar society. The Cortas made their fortune but even within the family there is a constant jockeying for power. The Corta matriarch is dying, and conflicts with their rivals, the Mackenzies, threaten to boil over into war.
Available in print HERE, and available as an audiobook on hoopla. Please email Lucy Loveridge, Library Liaison, at lloveridge@minlib.net for the zoom invite.
On May 12, we will be reading Borne by Jeff VanderMeer (available on library shelves and Overdrive/Libby).