Sci-Fi Book Group: The Calculating Stars by Mary Robinette Kowal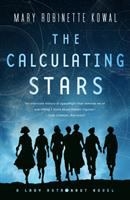 Elma York's experience as a WASP pilot and mathematician earns her a place in the International Aerospace Coalition's attempts to put man on the moon, as a calculator. But with so many skilled and experienced women pilots and scientists involved with the program, it doesn't take long before Elma begins to wonder why they can't go into space, too. Elma's drive to become the first Lady Astronaut is so strong that even the most dearly held conventions of society may not stand a chance against her.
Led by Lucy Loveridge. Please email lloveridge@minlib.net to receive the Zoom invitation.
The title for our January 13 discussion is A Door into Ocean by Joan Slonczewski.