That's e-Entertainment: Discover the World of Digital Books, Movies, Music and More!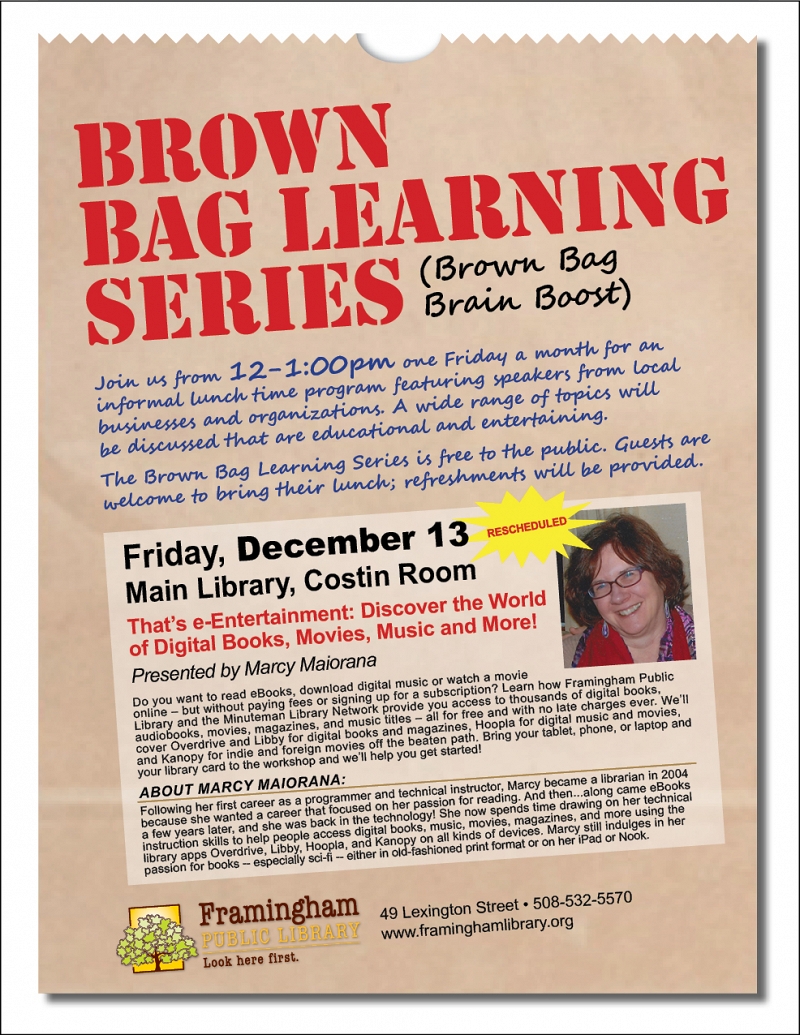 PLEASE NOTE: THIS EVENT HAS BEEN POSTPONED TO FRIDAY, DECEMBER 13.
Presented by Marcy Maiorana, Reference Librarian, Framingham Public Library
Do you want to read eBooks, download digital music or watch a movie online – but without paying fees or signing up for a subscription? Learn how Framingham Public Library and the Minuteman Library Network provide you access to thousands of digital books, audiobooks, movies, magazines, and music titles – all for free and with no late charges ever. We'll cover Overdrive and Libby for digital books and magazines, Hoopla for digital music and movies, and Kanopy for indie and foreign movies off the beaten path. Bring your tablet, phone, or laptop and your library card to the workshop and we'll help you get started!
About Marcy Maiorana:
Following her first career as a programmer and technical instructor, Marcy became a librarian in 2004 because she wanted a career that focused on her passion for reading. And then...along came eBooks a few years later, and she was back in the technology! She now spends time drawing on her technical instruction skills to help people access digital books, music, movies, magazines, and more using the library apps Overdrive, Libby, Hoopla, and Kanopy on all kinds of devices. Marcy still indulges in her passion for books - especially sci-fi - either in old-fashioned print format or on her iPad or Nook.