News and Events
Events
Know Your Rights: Immigration Issues and Workshop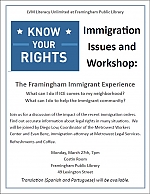 The Framingham Immigrant Experience
What can I do if ICE comes to my neighborhood?
What can I do to help the immigrant community?

Join us for a discussion of the impact of the recent immigration orders.
Find out accurate information about legal rights in many situations. We
will be joined by Diego Low, Coordinator of the Metrowest Workers
Center and Evan Benz, immigration attorney at Metrowest Legal Services.
Refreshments and Coffee.

Translation (Spanish and Portuguese) will be available.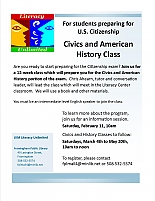 The Library in conjunction with LVM Literacy Unlimited is presenting a "Civics and American History Class" for students who are preparing for citizenship.
Beginning on Saturday, March 4th, the class will run for 12 weeks from 10am to noon. You must be a intermediate level English speaker to attend the class. There will be an information session on Saturday, February 11th at 10am in the classroom of the Literacy Center.
News
For February 2017 newsletter, click here.
For January 2017 newsletter, click here.
For December 2016 newsletter, click here.
For November 2016 newsletter, click here.
For October 2016 newsletter, click here.
Thanks for your Support
We have closed our 2016 end-of-year Appeal. Many thanks to everyone who made donations - we raised $6852 from 81 donors. This is up $100 and 19 donors from last year! Many thanks to all!

Thank you to all those who made our 2016 May Baskets Raffle a success. The lucky winners are listed below. If you have the opportunity, please let our donors know how much we appreciate their support.