News and Events
New! Civics and Literacy Class

Are you interested in starting to study for citizenship? Are you eligible? We are offering an 12 week class for beginner level English speakers led by our tutor, Alice Carroll. Class is limited to 10 students. Registration and the first class will take place in the Framingham Literacy Center Classroom on Tuesday November 7th from 5pm - 6:30pm. A great class for those just starting to work on Citizenship!
Citizenship and American History Class
We are offering a fall class (Saturdays starting September 30th, 10am to noon) to help you prepare for the civics and American history portion of the test. We will use a book and other materials. Led by tutor Chris Ahearn, the class will be offered also in Spring 2018.
Class is for Intermediate level English students.
Fall Class is now closed.
Recognition Evening - October 13th, 6:30 - 8:30pm
Check out the pictures from the event. Many thanks to Dan Schullman for the photos and Terra Brasilis for the cake!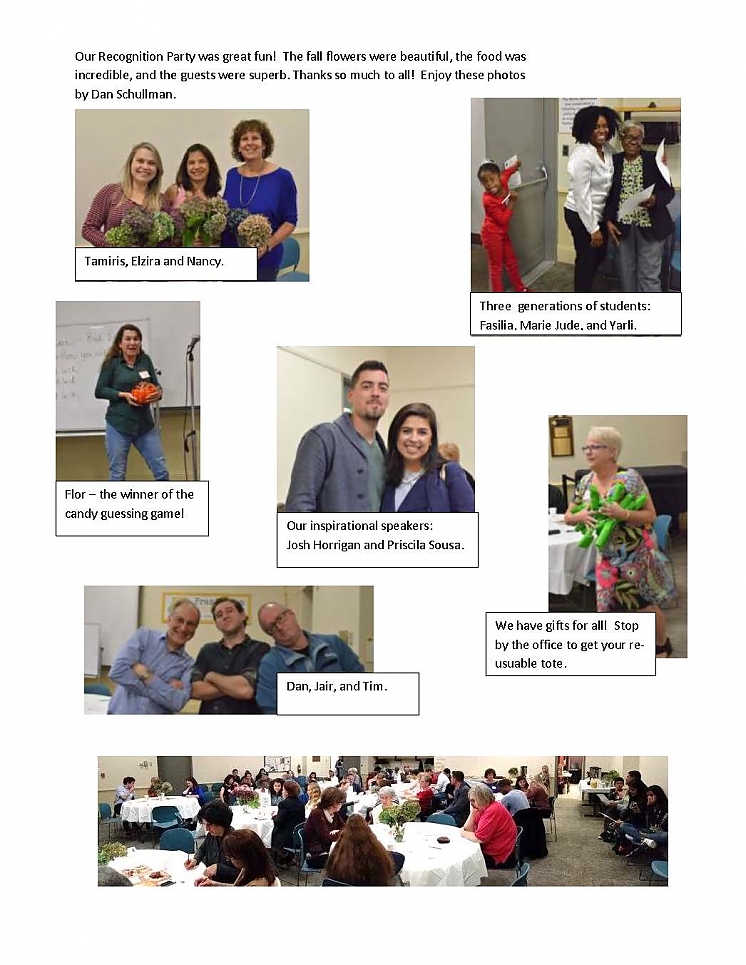 Thanks for your Support
June 2017: The May Baskets Raffle for 2017 was very successful! We had 33 baskets dispalyed in 4 libraries: Framingham, Main and McAuliffe Branches, and Natick, Morse Institute and Bacon Free. We sold 2202 tickets and made $5748 before expenses. Many thanks to our donors and sponsors - we rely so much on their generosity. If you get a chance, please let them know that you are associated with Literacy Unlimited and give them thanks! And a big congratulations to our winners!
January 2017: We have closed our 2016 end-of-year Appeal. Many thanks to everyone who made donations - we raised $6852 from 81 donors. This is up $100 and 19 donors from last year! Many thanks to all!
News
For September 2017 newsletter, click here.
For February 2017 newsletter, click here.
For January 2017 newsletter, click here.
For December 2016 newsletter, click here.
For November 2016 newsletter, click here.
For October 2016 newsletter, click here.