Brown Bag Learning Series: Healthy Food and Lifestyle Choices to Boost Your Immune System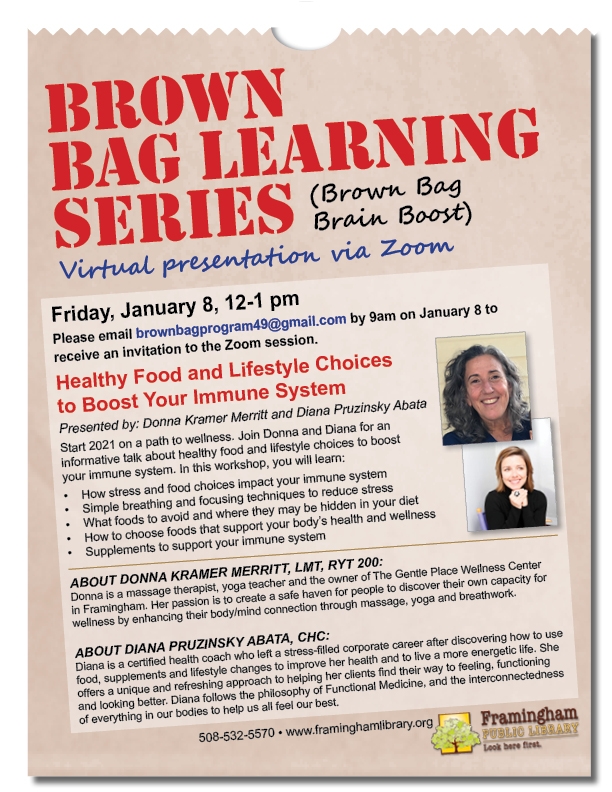 Presented by: Donna Kramer Merritt and Diana Pruzinsky Abata
Please email brownbagprogram49@gmail.com by 9am on January 8 to receive an invitation to the Zoom session.
Start 2021 on a path to wellness. Join Donna and Diana for an informative talk about healthy food and lifestyle choices to boost your immune system. In this workshop you will learn:
How stress and food choices impact your immune system
Simple breathing and focusing techniques to reduce stress
What foods to avoid and where they might be hidden in your diet
How to choose foods that support your body's health and wellness
Supplements to support your immune system

About Donna Kramer Merritt, LMT, RYT 200:
Donna is a massage therapist, yoga teacher and the owner of The Gentle Place Wellness Center in Framingham. Her passion is to create a safe haven for people to discover their own capacity for wellness by enhancing their body/mind connection through massage, yoga and breathwork.
About Diana Pruzinsky Abata, CHC:
Diana is a certified health coach who left a stress-filled corporate career after discovering how to use food, supplements and lifestyle changes to improve her health and to live a more energetic life. She offers a unique and refreshing approach to helping her clients find their way to feeling, functioning and looking better. Diana follows the philosophy of Functional Medicine, and the interconnectedness of everything in our bodies to help us all feel our best.