Butterflies, Dragonflies and Damselflies of Metrowest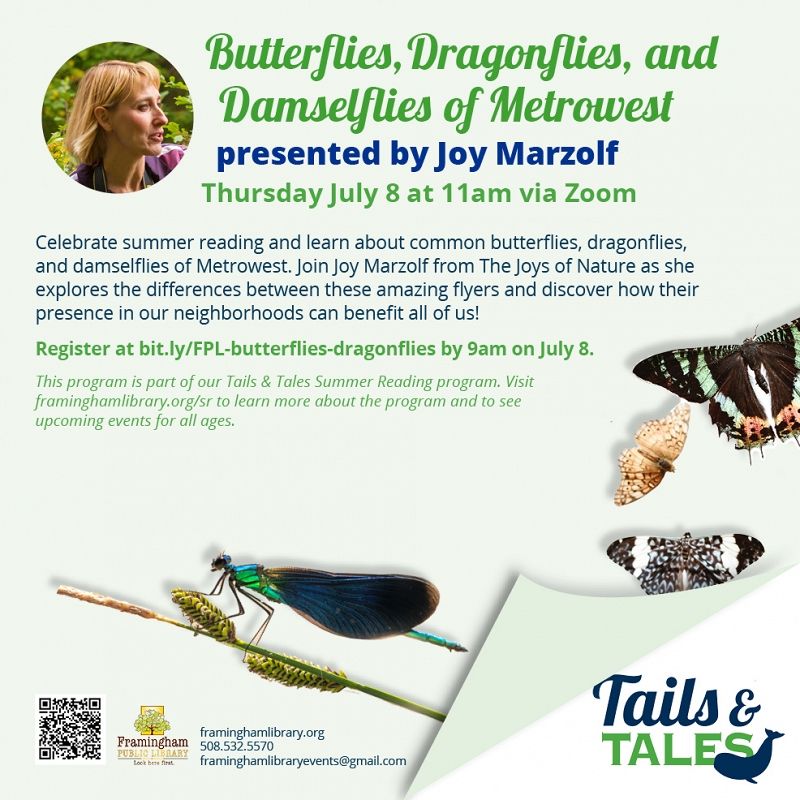 Presented by Joy Marzolf, The Joys of Nature
Celebrate summer reading and learn about common butterflies, dragonflies, and damselflies of Metrowest. Join Joy Marzolf from The Joys of Nature as she explores the differences between these amazing flyers and discover how their presence in our neighborhoods can benefit all of us!
To register and receive a Zoom link, please go to http://bit.ly/FPL-butterflies-dragonflies
About Joy Marzolf
Joy is the owner of The Joys of Nature. Most recently, she was a Naturalist and Educator at Mass Audubon's Broadmoor Wildlife Sanctuary for over 13 years. There she taught numerous programs for a wide range of ages on topics including butterflies and dragonflies, reptiles and amphibians, mammals, animal tracking and photography. In addition to a BA in Biology, she has taught a variety of animal-related education programs for over 20 years. She enjoys collaborating with non-profit organizations to offer science talks that feature field research.