Wolf Park: Meet the Ambassadors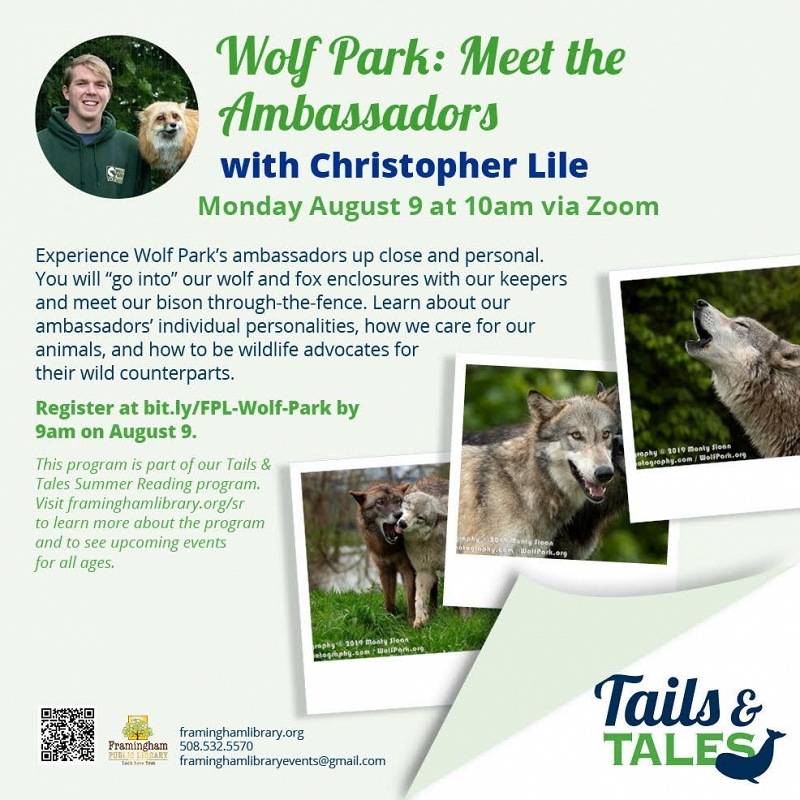 Presented by Christopher Lile, Wolf Park
Experience Wolf Park's ambassadors up close and personal. You will "go into" our wolf and fox enclosures with our keepers and meet our bison through-the-fence. Learn about our ambassadors' individual personalities, how we care for our animals, and how to be wildlife advocates for their wild counterparts.
About Christopher Lile: Christopher is a Program Coordinator at Wolf Park. He received his B.S. in Biology and Psychology from Gardner-Webb University and is currently enrolled in Indiana University–Purdue University Indianapolis (IUPUI) for his Masters in Philanthropic Studies. He is a ZAA associate member, an AAZK affiliate member, and an IZE member. He is also an independent contractor for Defenders of Wildlife as a red wolf advocate.
Register at bit.ly/FPL-Wolf-Park by 9am on August 9.
This program is part of our Tails & Tales Summer Reading program. Visit framinghamlibrary.org/sr to learn more about the program and to see upcoming events for all ages.