Digital Music
Hoopla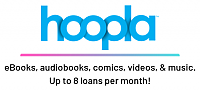 Music albums from Hoopla are available for 7 days. There are no holds and everything may be downloaded instantly. You may check out up to five Hoopla items per calendar month.
Use on a computer or download the app. Hoopla access is reserved for Framingham residents.*
New to hoopla? Watch our introductory tutorial here.

If you are not a Framingham resident, you can access hoopla from Boston Public Library. Get a Boston Public Library eCard for access to BPL's extensive list of downloadable content (including eBooks, eAudiobooks, eMagazines, downloadable music and movies) as well as their online databases. Anyone who lives, works, attends school, or owns property in Massachusetts is eligible.