Digital Music
Hoopla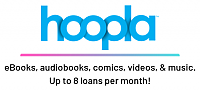 Music albums from Hoopla are available for 7 days. There are no holds and everything may be downloaded instantly. You may check out up to five Hoopla items per calendar month.
Use on a computer or download the app. Hoopla access is reserved for Framingham residents.*
New to hoopla? Watch our introductory tutorial here.
*If you do not live in Framingham, you can still use Hoopla through the Boston Public Library. All residents of Massachusetts may sign up for a Boston Public Library e-Card and use BPL's e-Resources, which includes Hoopla.