eBooks & Digital Audiobooks
Meet Libby, the new Overdrive App!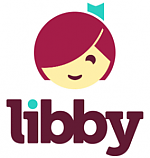 Libby, the new app from OverDrive, makes it easy to borrow ebooks and audiobooks and enjoy them on a smartphone or other portable device. Just download the free Libby app, then enter your library card number to browse, or search, thousands of digital titles. The virtual bookshelf lists all the titles you have borrowed or have placed on hold. You will get a notice when a book on hold is available.
If you are new to ebooks, we recommend that you download the Libby app.* If you currently use the Overdrive app, you may continue to use it or replace it with Libby. For general information about Libby, go to Meet Libby.
*If you use a Kindle Fire you will need to use the Overdrive app.
For help installing and using Libby, please watch our introductory tutorial, call the Reference desk at 508-532-5570, x4361, or go to help.libbyapp.com.
Overdrive or Libby

eBooks and digital audiobooks from Overdrive may be borrowed for 7, 14, or 21 days. You can select the loan period when you are checking the item out.
You can have up to 10 items out at a time. You can also have up to 15 requests in at a time.
You need your library card number and PIN, which are the same as for your regular library account. If you know your library card number, but have forgotten your PIN, you can reset it here.
Hoopla
Digital books, comics and audiobooks from Hoopla are available for 21 days. There are no holds and everything may be downloaded instantly.

You may borrow up to 5 Hoopla items per calendar month. Use on a computer or download the app. Hoopla access is reserved for Framingham residents.**
New to Hoopla? Please watch our introductory tutorial here, call the Reference desk at 508-532-5570 x4361, or go to www.hoopladigital.com/help.

** If you are not a Framingham resident, you can access hoopla from Boston Public Library. Get a Boston Public Library eCard for access to BPL's extensive list of downloadable content (including eBooks, eAudiobooks, eMagazines, downloadable music and movies) as well as their online databases. Anyone who lives, works, attends school, or owns property in Massachusetts is eligible.