How well do you know Charles Dickens?
Considered one of the greatest novelists of his era, Charles Dickens wrote 15 novels and created more than a thousand memorable characters. Prolific is one word to describe this author who not only wrote books, but also news articles, short stories, essays, and novellas—A Christmas Carol being his more popular. Many of his works have stood the test of time and are still widely available today 150 after his death.
But how much do you know about this author and his lasting legacy? Here are five lesser known facts about Charles Dickens.
If Dickens had a favorite novel, it had to be his eighth novel, David Copperfield. In the preface to the 1869 edition of the novel, Dickens wrote, "Of all my books, I like this the best ...like many fond parents, I have in my heart of hearts a favourite child. And his name is David Copperfield." The novel, too, is considered his more autobiographical work.


On his first trip to the United States in 1842, Dickens came to the nation's capitol where he met American politicians as well as the U.S. president at the time, John Tyler. In American Notes, the book that chronicled his trip to the U.S., Dickens wrote of Washington, D.C., "Despicable trickery at elections; under-handed tamperings with public officers; and cowardly attacks upon opponents, with scurrilous newspapers for shields, and hired pens for daggers." [1]


On that same trip to the U.S., Dickens was given a tour of Lowell, Massachusetts. Lowell was a relatively new city at the time, having become a city in 1836, and it was well known for its textile mills. Dickens later referred to his visit to Lowell as the "happiest day of his visit." Maybe not surprisingly, when American Notes was reviewed by American newspapers, the Lowell paper at the time was one of the few (or only) papers to give the book a positive review. [2]


Although the two were not contemporaries, Charles Dickens had a surprising influence on Helen Keller. During his trip to America, Dickens came to Boston and visited the Perkins School for the Blind, then known as the Perkins Institution for the Blind. He was so moved by the meeting of young girl, who like Keller was both deaf and blind, that he wrote about her in American Notes. Later, Helen Keller's mother would read Dickens's book and apply to the school on behalf of her daughter. [3]


Success for Dickens came with a price when it came to copyright laws or rather, the lack of them. On his trip to the U.S., Dickens would learn that being a popular author had its downside. His books were printed in the U.S. without his permission, which meant that he received no royalties for each copy sold. Of course, the lack of international copyright laws hurt American authors whose books were published in the UK without their consent. [4]
Learn more about Charles Dickens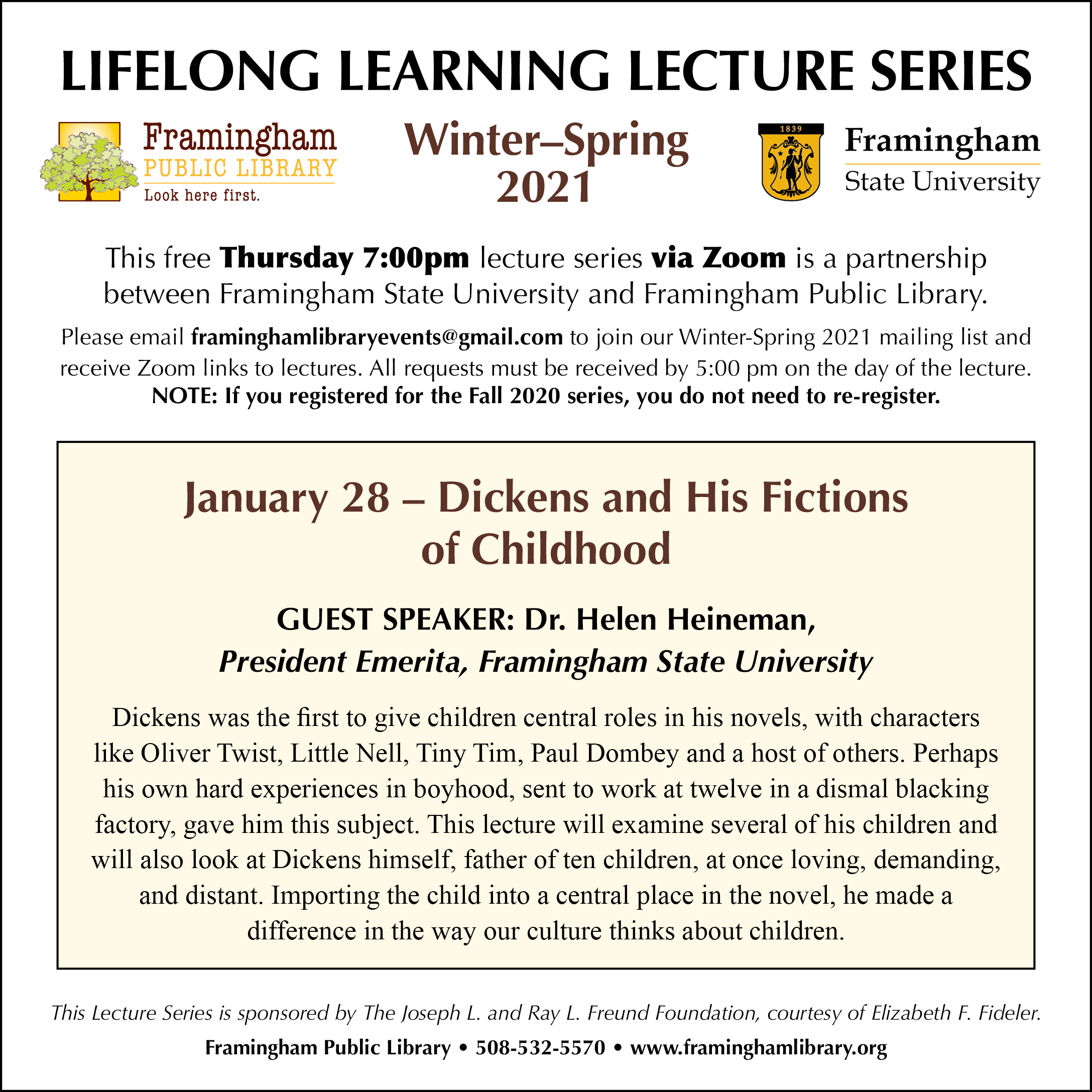 If you're a Dickens fan or just want to know more about him and his works, join us this Thursday January 28, 2021 at 7:00pm for our Lifelong Learning Lecture, "Dickens and His Fictions of Childhood."
Guest speaker Dr. Helen Heineman, President Emerita of Framingham State University, will examine several of Dickens's fictional children and will also look at Dickens himself, father of ten children, at once loving, demanding, and distant.
Email framinghamlibraryevents@gmail.com to join our Winter-Spring 2021 mailing list and to receive Zoom links to lectures. All requests must be received by 5:00 pm on the day of the lecture.
NOTE: If you registered for the Fall 2020 series, you do not need to re-register.
[1] "When Charles Dickens fell out with America," BBC.com
[2] "Dickens in America," Wikipedia.com
[3] "Charles Dickens's Link with Helen Keller," AFB.org
[4] "Struggle For Copyright Laws," Charlesdickensinfo.com