Recovery and Substance Use Disorder
Books at Framingham Public Library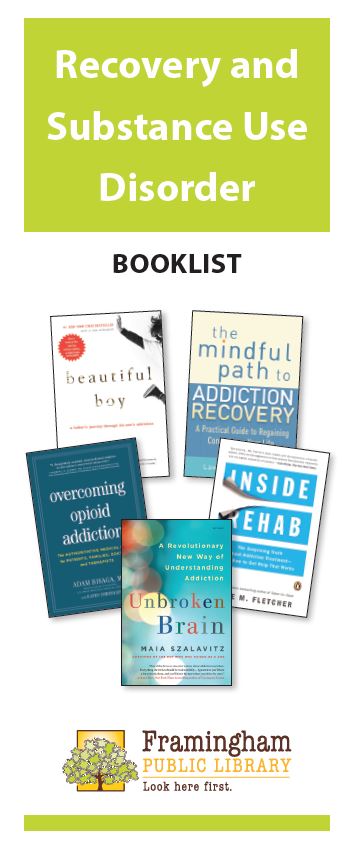 Download the complete pamphlet.
The Science of Addiction
Personal Narratives
The Opioid Addiction Crisis
Treatment and Recovery
Related Organizations and Services
MA Bureau of Substance Use Services Helpline. 800-327-5050, www.helplinema.org. Free, confidential info and referrals.
Program RISE Opioid Overdoes Prevention Program. 508-935-2960. 1 Grant St. Suite 100, Framingham. Free, confidential info on opioid overdose prevention and access to treatment.
SMOC Recovery Coaches. 508-232-8371. Support from experienced coaches for those in or wanting to be in recovery from an opioid use disorder.
Learn to Cope. www.Learn2Cope.org. Support group for parents and families of those addicted to opioids and other drugs. Free Naloxone (Narcan) is available at meetings. Check their website for date, time, and place.
Massachusetts Organization for Addicted Recovery (MOAR). www.moar-recovery.org/resources. Resource list for Massachusetts treatment and recovery services.